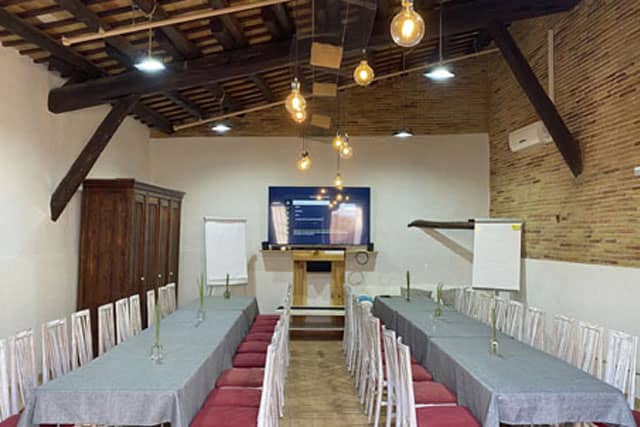 14 Nov

Masia Notari | Barcelona Workation in Catalan Country
Workation in Catalan country
Nestled in the picturesque landscapes of Catalan country, Masia Notari emerges as a beacon of tranquility and a perfect blend of history and modernity. This beautiful rural property, with its roots deeply embedded in history, has been meticulously restored to offer a unique experience that goes beyond mere accommodation.
A harmonious blend of past and present
Masia Notari is not just a place to stay; it's a journey through time. Each of the 25 rooms in this sprawling villa is a testament to the property's rich heritage, decorated with an eye for detail that respects its origins and history. The fusion of historic elements with contemporary comforts ensures that every guest experiences the charm of the past without sacrificing the conveniences of modern living.
New beginnings with a touch of familiarity
In the last year, Masia Notari has embarked on a new journey under fresh management. This transition has brought about thoughtful remodeling, enhanced the space while preserving its soul. The new management is committed to maintaining the essence of Masia Notari, ensuring that the villa remains true to its roots while offering updated amenities and services.
At Masia Notari, the goal is to transform your visit into an unforgettable experience. The team goes above and beyond to provide personalized service, ensuring that every aspect of your stay is tailored to your preferences and needs. Whether you're here for a relaxing getaway or a 'Barcelona workation,' Masia Notari is equipped to cater to all your requirements.
Embrace the workation trend
In today's world, where work and leisure often blend, Masia Notari stands out as an ideal destination for a 'workation.' With its serene environment, high-speed internet, and ample spaces for both work and relaxation, professionals can find the perfect balance between productivity and leisure. The tranquil surroundings offer a much-needed respite from the hustle and bustle of city life, making it an ideal spot for creativity and focus.
Discover the heart of Catalonia
Located just a short drive from Barcelona, Masia Notari offers an excellent opportunity to explore the heart of Catalonia. From its stunning landscapes, rich cultural heritage, to exquisite local cuisine, the region promises a plethora of experiences for travelers.
Exclusive rent events and luxury vacations
Masia Notari is not only a haven for individual travelers but also an ideal spot for exclusive rent events. The villa's unique setting makes it perfect for hosting special occasions, corporate retreats, and bespoke events. For those seeking luxury vacations Spain, Masia Notari offers an unparalleled experience combining luxury, comfort, and the rich cultural tapestry of Catalonia. And if you're looking for a luxury rental Barcelona, our villa provides an exclusive escape from the ordinary.
Masia Notari is more than just a destination; it's an experience that stays with you. With its unique blend of history, modern comforts, and personalized service, it offers an unparalleled opportunity to immerse yourself in the beauty of Catalan country. Whether you're seeking a peaceful retreat or a productive workation, Masia Notari is a choice you won't regret.
Discover more about this enchanting villa and plan your next escape at Masia Notari.