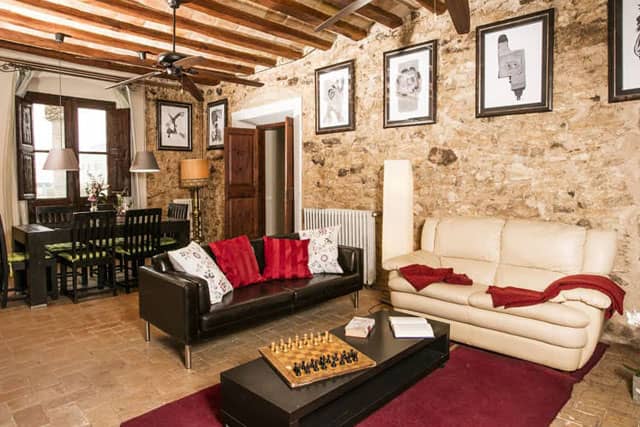 01 Ago

Masia notari | Luxury home rentals near barcelona

Masia Notari is more than just a place to stay; it's an experience. Situated in the picturesque region of Vilanova, this luxury corporate villa is a unique destination that seamlessly blends traditional rural charm with the modern comforts of home. Luxury home rentals near Barcelona have never been this delightful.
The Ultimate In Rural Luxury
When you step foot onto Masia Notari, you will feel as though you've been transported back in time. The property is a beautifully restored rural villa, where the grandeur of the past is tastefully combined with the conveniences of today. 
What sets Masia Notari apart from other charming villas in Catalonia, is that each room has been carefully curated to be unique. The design is a testament to meticulous attention to detail, resulting in a setting that is both historic and inviting.
As you wander through the villa, you'll be swept away by the harmonious blend of old and new. It's a slice of history with a modern twist, making it one of the most coveted luxury home rentals near Barcelona.
Not Just a Villa, but a Complete Solution
But Masia Notari is not just a luxurious place to stay; it's an all-inclusive solution for corporate meetings and off-site retreats. We understand the importance of seamless planning and execution, and that's why we offer a comprehensive package that takes care of all your needs.
From comfortable accommodation to all the necessary services for your corporate retreat, Masia Notari has got you covered. We even offer team-building activities to ensure you get the most out of your stay. It's not merely a retreat but a transformational experience that your team will remember for a long time to come.
Privacy like No Other
What sets Masia Notari apart from other BCN luxury service apartments is the exclusivity it offers. We believe that privacy is paramount, and that's why the entire property is rented out exclusively to your group. No sharing, no disturbances, just you and your team in a beautiful villa that's all yours for the duration of your stay.
Whether you're planning a corporate retreat or simply want to escape the hustle and bustle of Barcelona, Masia Notari is the perfect choice. With its exquisite interiors, comprehensive services, and unmatched privacy, it truly stands out among other charming villas in Catalonia.
Book Your Stay Today
Masia Notari is more than a villa; it's a destination. It's the ultimate choice for luxury home rentals near Barcelona. Don't just take our word for it. Experience the magic of Masia Notari yourself.
So, are you ready to experience the perfect blend of history, luxury, and convenience? Contact us today to book your stay at Masia Notari, and let us provide you with an unforgettable experience in one of the most charming villas in Catalonia.