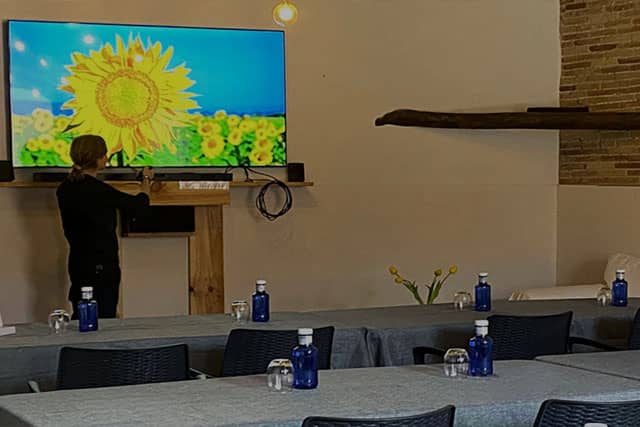 01 Ago

Masia Notari | Holidays and Team Building near Barcelona

Nestled near the beautiful city of Barcelona, Spain, lies MasiaNotari, a rural property exuding a unique charm and character. It's a destination that transcends traditional vacations, offering an ideal setting for Holidays and Team Building near Barcelona and facilitating unique corporate retreats. This piece will highlight why this luxurious corporate villa in Vilanova is a prime choice for both vacationers and corporations.
The Blend of History and Modernity
MasiaNotari isn't your typical villa—it's a historic retreat hub. Each room carries its unique decorative touch, maintaining historical elegance while incorporating modern comforts. Coupled with its incredible indoor and outdoor spaces, this villa offers a distinctive, refreshing vacation experience.
Perfect for Corporate Retreats
In the corporate world, stepping out of the usual conference room setting can rejuvenate and inspire teams. MasiaNotari understands this and offers comprehensive solutions for corporate meetings and off-site retreats. Our team-friendly services extend beyond just providing accommodation—we're actively involved in facilitating and organizing your retreat activities.
Team Building Activities
Team building activities are a proven way to foster teamwork, enhance productivity, and boost morale. MasiaNotari recognizes this and has incorporated it into its services. Our goal is to ensure that you maximize your stay with us, and we're committed to making your team building near Barcelona both enjoyable and fruitful.
Uncompromised Privacy
We value the privacy of our guests and understand that some moments are best experienced in solitude. That's why weoffer exclusive rental of our property with a total of 25 double rooms/ 21 bathrooms, ensuring complete privacy for your group. Whether you're on a holiday or a corporate retreat, we guarantee you the whole property to yourself.
Why Choose MasiaNotari?
Selecting a destination for a holiday or a corporate retreat requires careful thought and planning. You want a place that's serene, beautiful, and meets your specific needs. MasiaNotari ticks all these boxes and more. Our uniquely decorated rooms, combined with the awe-inspiring indoor and outdoor spaces, guarantee a memorable stay.
Moreover, if you're seeking a team-friendly location for your next corporate retreat, we've got you covered. Our comprehensive solutions cater to all your needs, and our personalized approach ensures that your team's objectives are met. And above all, we respect your privacy. We offer exclusive rental of our property, providing you the space and solitude needed for a successful retreat.
Whether you're seeking a luxurious vacation or planning a unique corporate retreat, MasiaNotari is an ideal choice. With our well-appointed villa, tailored services, and commitment to guest satisfaction, your stay with us is sure to be a memorable one.
In conclusion, MasiaNotari is more than a villa—it's a luxurious retreat hub offering unrivaled vacation experiences and facilitating highly effective team building activities. Come, experience the blend of history, luxury, and natural beauty at our rural property. Your journey to the perfect Holidays and Team Building near Barcelona begins here.