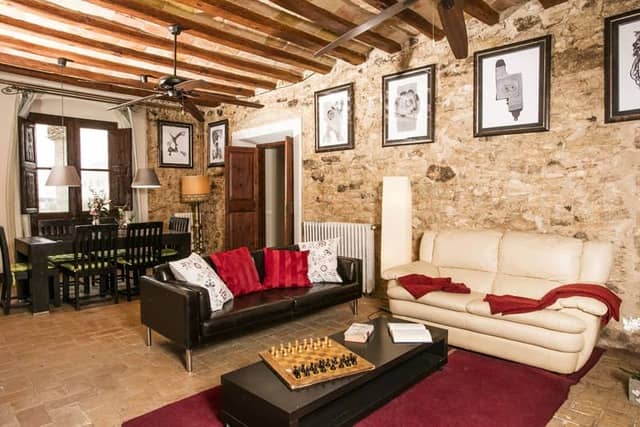 19 Jun

Luxury Corporate Apartments Near Barcelona

Masia Notari, nestled in the serene countryside, blends the rich tapestry of history with the comforts of modernity. This unique property has emerged as a top choice for those seeking luxurious corporate apartments near Barcelona. Fusing a classic aesthetic with a contemporary edge, Masia Notari defines a new level of refinement and convenience.
A New Chapter for Masia Notari
Last year marked a turning point for Masia Notari. With a change in management and an ambitious vision, the property underwent a significant transformation. Preserving the integrity of its historic charm while catering to the modern guest's needs, the focus of Masia Notari is to create an experience that transcends the ordinary bounds of accommodation.
Every room in the villa tells a story. Each has been individually curated and decorated, maintaining respect for its history while establishing its own unique identity. Whether you're seeking a private retreat or a spacious area for social interaction, Masia Notari caters to a diverse range of preferences and needs.
Experiencing Barcelona in Luxurious Comfort
When considering where to stay near Barcelona for a corporate event, Masia Notari's advantageous location provides an enticing option. This tranquil oasis offers a serene retreat from the energetic city life yet is within easy reach of Barcelona's vibrant heart. It's the perfect base for those attending corporate events or wishing to explore the region.
Experience Superiority with Luxury Service Apartments
Masia Notari's exceptional Barcelona luxury service apartments offer guests the finest of both worlds. Here, you can enjoy the grandeur and services of a premium hotel, but with the personalized care and charm of a boutique establishment. The objective is clear: to make every stay as comfortable and memorable as possible.
Picture this: hosting your corporate events in a carefully restored villa, surrounded by the enchanting rural landscapes of Catalonia. Masia Notari's facilities are designed to spark creativity, enhance collaboration, and promote productivity. No matter the size or nature of the event, from intimate brainstorming sessions to grand corporate gatherings, Masia Notari provides the ideal environment.
The Allure of Sitges: A Stone's Throw Away
Another compelling reason to choose Masia Notari is its proximity to the beautiful coastal town of Sitges. Known for its pristine Mediterranean beaches and vibrant nightlife, Sitges is a haven for tourists and locals alike. For those seeking a luxury apartments rental near Sitges, Masia Notari proves to be an enticing choice. After a day's work, indulge in the local flavours and explore the mesmerising beaches.
A Unique Stay That Speaks to You
At Masia Notari, we redefine accommodation. We strive to create a lifestyle experience, a perfect balance between the timeless charm of history, the indulgence of luxury, and the tranquility of nature. Whether you are in search of corporate apartments near Barcelona, contemplating on where to stay near Barcelona for a corporate event, or seeking luxury apartments rental near Sitges, Masia Notari stands as the perfect answer to your quest.
Our philosophy at Masia Notari is simple: luxury is more than just opulence; it is comfort, personalisation, and experiencing something out of the ordinary in everyday life. And that's exactly what we strive to provide – an extraordinary experience, tailored to each guest.
Welcome to Masia Notari, where the charm of the past meets the comforts of the present, creating an unforgettable experience. We look forward to hosting you in our unique, luxury corporate apartments near Barcelona.